Is Retrofit Double Glazing Worth It?
Double glazing is one of the best ways to increase the energy efficiency and value of your property. It won't just lower your energy bills, it will also allow you to transform your interior environment into the serene, comfortable haven that it should be.
You should use retrofit double glazing to enjoy all the insulation, acoustic, air quality, and security benefits – without having to spend as much money as you would with new double glazed windows. Not only that, it's also essential if you want to preserve your investment. Thermawood's unique dry glazing system is the only one that allows for maximum drainage and is the most effective solution for preventing problems with condensation, such as wood rot, mould growth, and poor indoor air quality.
Thermawood's retrofit double glazing system can improve your home's insulation by up to 73% and can reduce noise by as much as 70%. It can help prevent fading of your soft furnishings.
When it comes to noise reduction, retrofit double glazing can yield excellent results. What we do is we take the decibel level of your street noise and determine what type of glass and thickness level is required to get the acoustic benefits you want. We have special options, such as our SoundStop, which is made from laminated glass sheets, layered with acoustic resin.
For safety concerns, you can choose different levels of safety glass. Safety glass is made from laminated glass, which is incredibly difficult to break. Even in environments with high winds, or when glass is subject to blunt force, intentional or accidental, it takes a lot of work to cause a crack. Laminated glass may eventually form cracks with repeated, excessive force, but it is even harder to actually shatter the glass into pieces. With two glass panels, as is the case with double glazing, being able to break through a high performance IGU gets one step closer to impossible.
What Is Retrofit Double Glazing?
With retrofitting, your current single glazed glass is replaced with double glazed IGUs. Instead of removing the entire window structure and replacing it, your existing window structure remains in place and the single pane of glass is replaced with a double pane system.
As a result, with retrofitting you can enjoy all the advantages of double glazing because you are getting the same high-quality IGU. For those living in bustling cities or who rely on an air conditioner and indoor heater to regulate the interior environment, a window conversion can immensely improve the comfort and quality of indoor living and working spaces.
Retrofitting is also just as effective at enhancing security and protecting your furnishings from UV damage, all for a fraction of the cost of double glazing. Retrofit double glazing is a less obtrusive process and it doesn't require a lengthy, complex new window replacement. This means, it doesn't require as large of an investment as new double glazed windows – yet it will increase the value of your home just as much, or more.
Thermawood uses a patented dry double glazing system. We created a system that encourages better drainage to help our windows and doors withstand even extreme environments. Designed specifically for existing timber windows, water and water vapour is able to evaporate or escape, diminishing the risk that condensation will damage the wood and prevent the double glazing from failing.
Why Should I Choose Thermawood?
Thermawood Retro-fit creates a unique dry glazing system for double glazing to your existing timber windows and doors in your home.
According to the Department of Building and Housing, in a well-insulated building, windows and other glazed areas are the biggest source of heat loss. The installation of a double glazed unit effectively halves the heat loss when compared to a single-glazed window of a similar shape and size.
Glazing is an important consideration when renovating or building. The correct glazing choice can ensure you are creating a more comfortable, sustainable environment suitable for both hot and cool weather. In some areas of New Zealand, double glazing can be used to meet the new H1 requirements.
Insulation is becoming increasingly important in building and renovation; however heat loss due to inefficient or outdated glazing can mean that your insulation will be ineffective and less cost effective. Different types of glass are required for different environmental conditions. Our Thermawood retrofit system is designed around an already existing and highly effective double glazing solution and guarantees that a range of high tech double glazing units can be installed. The advantages of using an insulating glass unit (IGU) include:
Warm Edge technology. This means a high tech, innovative spacer system is used which is made from stainless steel and high performing plastic. Benefits of this technology include decreased thermal conductivity and improved insulation efficiency. Overall performance of the IGU is increased because there is a reduction in the onset of condensation towards the outer edge area of the unit.
Ideal for use in thermally efficient window frames. The Thermawood system maximizes the thermal properties of timber ensuring your window frames become very, very efficient.
Higher interior glass surface temperatures at the edge area zone.
Lower risk of edge area condensation forming on the glass.
Improved heat flow in windows due to a thermal break at the IGU edge.
Improved overall window U values (or R values).
Improved efficiency of the building.
Attractive design.
The Thermawood system utilizes timber due to its associated thermal, acoustic and chemical properties.
Timber is a natural insulator. The air pockets within its cellular structure ensure that it is a natural barrier to heat and cold. Because thermal conductivity increases in timber, it is a far better insulator than aluminium and this is utilized in the Thermawood retrofit system.
Timber has an innate ability to damp acoustic vibrations. Again, its cellular structure of tiny, interlocking pores converts sound energy into heat energy through frictional and viscous resistance within these pores and by vibration of their small fibres. This ensures that timber has a higher damping capacity than most other materials.
Double glazing is a highly effective solution when compared to the standard 3mm or 4mm clear glass that most homes currently have. Some of the key benefits of Double Glazing are:
Increased comfort levels. When combined with insulation in the walls, ceiling and floor; double glazing your windows and doors will ensure temperatures are kept stable and heating and cooling costs are reduced.
Heat loss is halved with standard double glazing when compared to a single glazed window. This can be further reduced by using other glass types such as low-E glass and using argon gas to fill the space between the two panes of glass.
Condensation is reduced. Eliminates dew building up on windows and fights mould.
Reduced noise, standard double glazing can also help reduce noise levels in the medium to high frequency range (such as voices). An even greater degree of noise reduction can be achieved by choosing laminated/acoustic glass.
How does double glazing work?
A double-glazed window uses two panes, separated by a 6-12mm gap which is filled with air or an insulating gas such as argon. It is also known as an Insulating Glass Unit (IGU). Different types of glass can be selected that provide additional benefits such as safety , security, noise control and solar control, a key benefit of insulating glass is a reduction in condensation forming on the glass.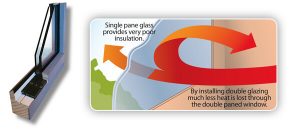 Retrofitting double glazing involves the removal of the existing window glass and the replacement with a high performance sealed IGU.
If timber is used, the window frame is modified in-situ and provided with a unique drainage system and new glazing beads.
If the window frame is aluminium, it is provided with a set of frame adaptors and the replacement of opening sashes.
Thermawood New and Retro-fit Double Glazing. For a warmer, healthier, drier home.