Double Glazing New Joinery
Double Glazing for New Timber Window & Door Joinery
At Thermawood we also offer double glazing for new window and door construction by supplying our patented double glazed drainage system to joiners. Incorporating Thermawood's double glazing system into new timber window and door framing, joiners are now able to take advantage of the many benefits that have taken years of research and development such as the patented drainage system that ensures the longevity of your double glazing and wooden windows.
The Thermawood Double Glazing System meets the requirements of the IGUMA and will satisfy IGUMA member's warranties.
Technical Notes:
18mm Insulating Glass Units can be glazed into 42mm timber section.
26mm Insulating Glass Units can be glazed into 54mm timber section.
Much cleaner internal and external sightlines due to the purposely designed self-adhesive wedge.
Drainage system and back pressure work together to minimize water ingress and drain out moisture resulting in longevity of timber and Insulating Glass Units.
Unique co-extruded sill adapter provides platform for drainage, setting block, bottom bead location and support while santoprene backing fin prevents water ingress.
15 degree sloped and slotted IGU compatible silicone glazing blocks securely lock into sill adapter.
Suitable for both factory and site glazing.
Significant reduction in glazing time over traditional timber glazing techniques.
Eliminates the need for wet glazing compounds, tapes and silicones.
Frames can be transported as soon as glazed – no curing times.
Tested to NZS4211:2008 Extra high Wind Zone water penetration test requirement.
Sloped drainage system for new timber joinery
Dry glazing system
Designed to suit 18mm double glazed units
Self adhesive tape
Complete glazing system, including rubber seals, sloped glazing blocks, drainage adapter and beading
44mm Frame x 18mm IGU Specifications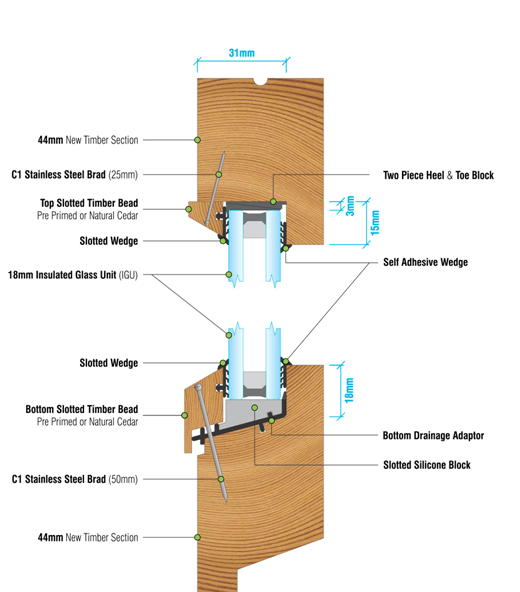 Flush Rubber
44mm Frame x 20mm IGU Specifications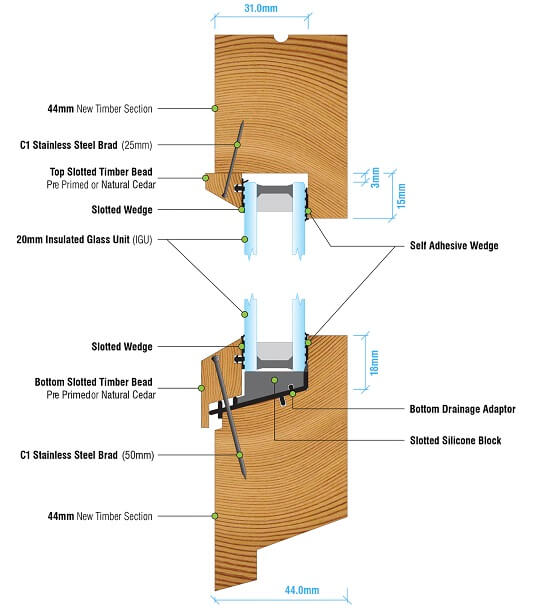 56mm Frame x 26mm IGU Specifications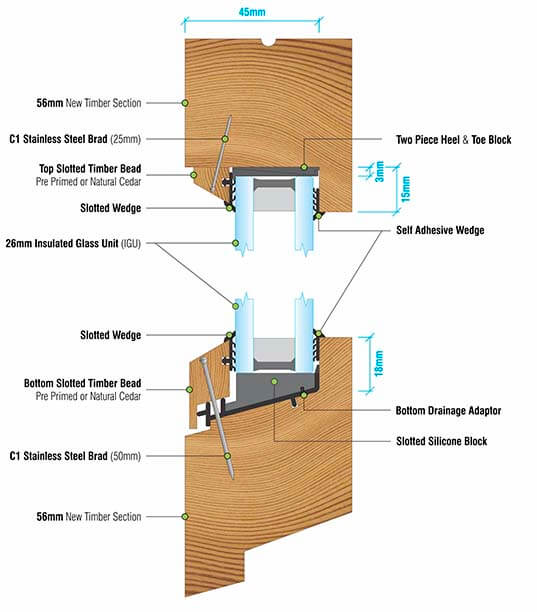 56mm Frame x 18mm IGU Specifications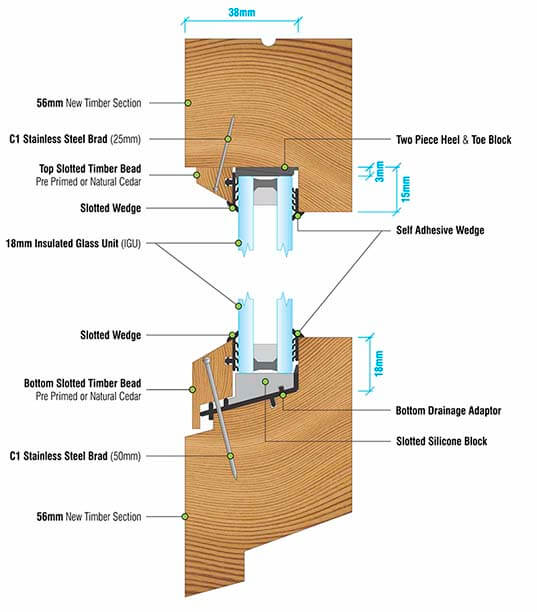 Thermawood New and Retro-fit Double Glazing. For a warmer, healthier, drier home.